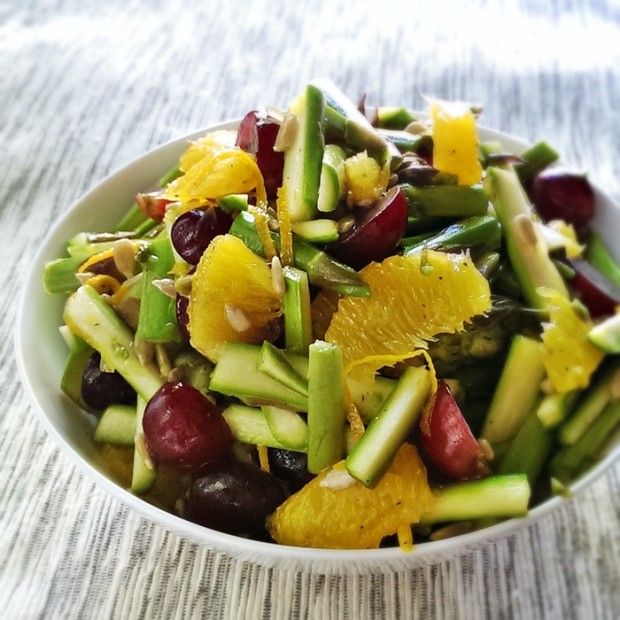 It's summer time!  What a better way to celebrate with a healthy recipe for a citrus asparagus salad.  Alberta has some great asparagus farms, and our local newspaper it taking advantage of it by promoting food pictures inspired by this tasty vegetable.  Gastropost found some of my pictures on my Instagram page and wanted me to accept weekly food picture challenges.  If my pictures are good enough (which are getting better!), They get featured in the Calgary Herald.  It's pretty sweet!   This week was seasonal asparagus pictures, and this is the tasty salad that I came up with.  It's vegetarian, gluten free, and can even be made vegan too!
This salad is so well balanced.  It's got crunchy sunflower seeds, it's sweet, a little sour, and very fresh.  It's a salad that's best left to marinade overnight.  The vinaigrette is simple to make.
One tool you will need for this is a zester, or microplane.  If you have never heard of either, you can check out my post of 11 things you need in your kitchen, and learn all about it.  I love having little kitchen gadgets.  My knife bag is full of them!

Citrus Asparagus Salad
Ingredients
Salad
2 pounds of asparagus
2 cups of red seedless grapes, halved
3 oranges, peeled, segmented, and zested
1 cup of raw sunflower seeds
Dressing
½ cup of vegetable oil
the juice of 3 oranges
3 Tablespoons of apple cider vinegar
1 Tablespoon of raw honey
salt and pepper to taste
Instructions
For the asparagus, make sure to cut the ends off as they will be very fibrous. Quarter the spears lengthwise and slice into 1" sticks.
Zest the oranges and set aside. Peel the oranges as well and use a sharp paring knife to cut out the segments. Transfer to a large bowl with the asparagus, halved grapes and sunflower seeds.
After you segment the oranges, take what's left and squeeze it with your hands to get as much juice out as you can. Combine that with the rest of the ingredients for the dressing and whisk together well.
Toss the salad with the dressing and let sit overnight. Make sure to season the salad with salt and pepper.
If you want to keep this a truly vegan salad, you can leave out the honey and replace it with something like coconut palm sugar.  You could also soften up the asparagus by lightly steaming it, which will sweeten it as well.  Have you signed up for my newsletter yet?  I send one out every Wednesday with all my recipe updates so you don't miss anything.  Become a subscriber
here
.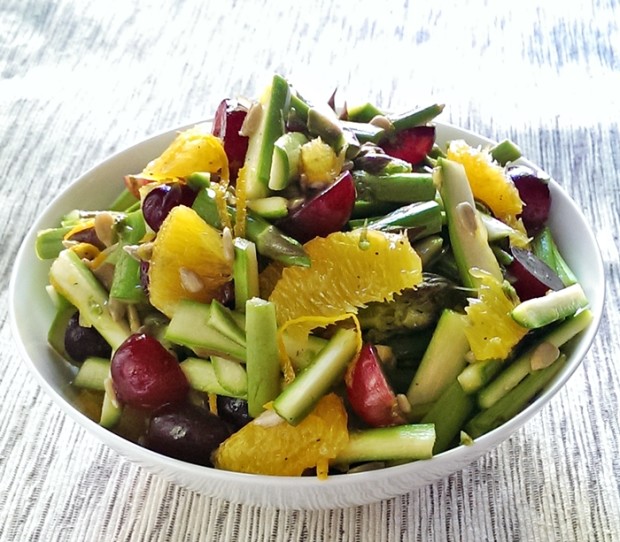 You may also like :