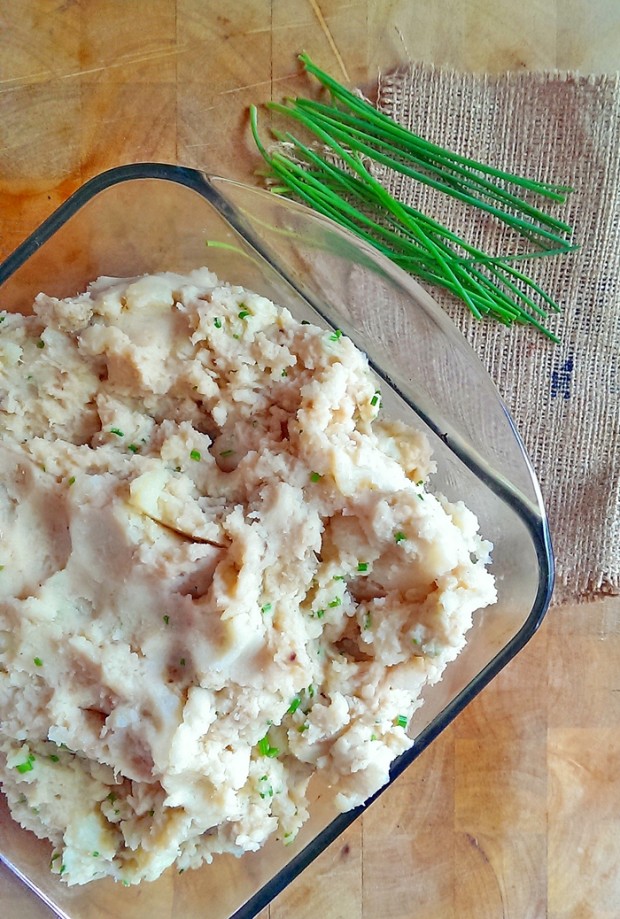 I'm back everyone from a much needed break from blogging.  I hope you all still miss me and adore me.  I have two great recipes for delicious mashed side dishes.  These caramelized onion and chive mashed potatoes were really popular at our friends Septembers Giving party we were invited to recently.  Heather was really craving a turkey dinner (as was I!) and so our friend Ryan was going to have one for his birthday.  This idea was genius.  Great food and great friends is the best way to enjoy life.
I'm also looking outside my window right now, and it's snowing.  It was literally 25 degrees and sunny out yesterday and now its plus 2 and snowing.  This year has gotten away from us!
Anyway, back to the delicious mashed potatoes!
I say that I have two recipes because there are two awesome variations for those that maybe can't have dairy, or want something a little less heavy than mashed potatoes.  This recipe is just as delicious with steamed cauliflower and almond milk, as it would be the traditional way, so I thought it would make sense for me to show you both!  At Fresh Menu Planner I try to take care of everyone's dietary needs!
Caramelized Onion and Chive Mashed Potatoes
Prep time:
Cook time:
Total time:
Ingredients
1.5 lbs. of yukon gold potatoes, cut into 1 inch chunks
2 cups of thinly sliced red onions
½ cup of sliced chives
2 cloves of finely chopped garlic
1 Tablespoon of olive oil
2 Tablespoons of high quality, unsalted butter (organic would be preferred)
¾ cup of organic whole milk (you may have to add more depending on the consistency you want)
salt and pepper to taste
Instructions
Put a steam basket into a large pot, and add ½ liter of water to the pot.
Add in the potatoes and turn the pot onto high heat until the water starts to boil. Turn down the heat and cover with a lid.
The potatoes will need to cook for roughly 20 minutes. Make sure to check the potatoes are soft enough before mashing them.
heat up the oil in a pan and saute the sliced red onions on medium heat. These guys will take a while to cook as well, but keep an eye on them. The end result should be a nice caramelized onion that's nice and sweet. Add in the chopped garlic about half way through, so you don't burn it.
All you need to do to switch up this recipe for a less carb heavy potato, is replace the potatoes with steamed cauliflower.  If you wanted something dairy free, simply replace the regular milk with plain almond milk, and the butter with some unflavored coconut oil.  The consistency will be a little bit thinner than the traditional mashed potato, but will taste just as good!
You may also like :