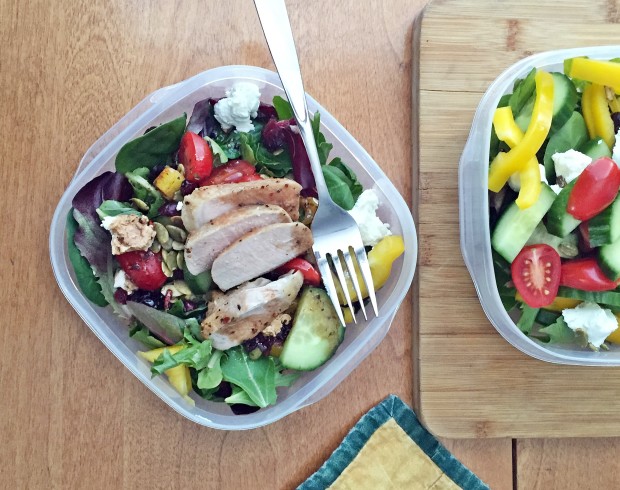 I love making salads for Heather and I.  They are one of the most versatile dishes because there are an infinite amount of options.  When I cook I like to combine different flavors and textures, and salads are the best way to do it.  I can combine sweet and tangy dressings with different lettuce, vegetables, fruit, cheeses, nuts, you see where I am going with this.  Healthy salads have an infinite amount of options and some of the recipes below will showcase different ways to make a salad taste better, so you eat more of them!
Since I have been out of the kitchens, I have now noticed it has become a bit tougher to eat healthier.  It used to be so convenient to have all of this food around me to create whatever I wanted.  Now I actually have to meal plan, and grocery shop a lot more often!  Salads are a great way to do it.
This post will share with you many healthy salad recipes that combine all things sweet, sour, crunchy, salty and soft.  Your mouth won't know what hit is!
Here are some great combinations of ingredients below.  This stuff isn't rocket science, but sometimes understanding certain flavors will yield tastier results.

7 Build Your Own Salad Ideas
Ingredients
1. Roasted beets, goat cheese, crisp red onion, pumpkin seeds, and arugula with a simple balsamic dressing.
2. Sliced granny smith apples, crumbled blue cheese, slivered almonds, butter leaf lettuce with a sweet fruity vinaigrette.
3. Roasted vegetables, grilled romaine hearts, crispy croutons, sun flower seeds, with a creamy, homemade Caesar dressing.
4. A simple Greek salad with fresh peppers, onions, cucumbers, tomatoes, fresh feta cheese, and mix it up with some avocado.
5. Roasted Spaghetti Squash, spinach, cherry tomatoes, grilled eggplant, buffalo mozzarella with a little bit of olive oil, red wine vinegar drizzle, salt and pepper
6. A Mexican inspired salad with fresh salsa, guacamole, iceberg lettuce, grilled peppers and onions, crispy tortilla strips, with a spicy salad dressing.
7. A dessert style salad with fresh berries, chiffonade mint and basil, a splash of balsamic vinegar and maple syrup, topped with some dark chocolate shavings.
Instructions
No real instructions here. Just mix and match anyway you like!
I think you get the point?  Once you have a base of an idea for your salad there is an infinite number of possibilities.  Healthy salads should be fun, and you get to experience something different each time!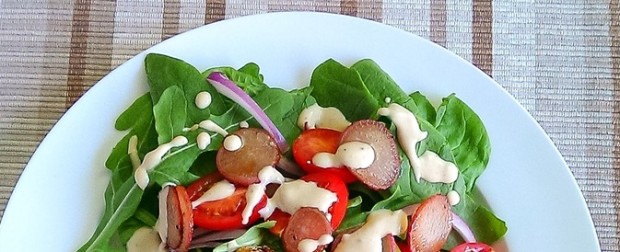 Which brings me to what I am so excited to talk to you all about.  I have created my first E-Book and it is available free to those that sign up to be loyal subscribers to my newsletter.  Sign up here and the E-Book will be sent to you instantly!
It is a simple, step by step four week meal plan that is full of recipes and great ideas from my 14 years in commercial kitchens.  You will receive a meal plan template, easy to follow recipes, a helpful shopping guide that maximizes your time in the grocery store, and you will get to eat healthy.  My goal is to help with the stresses of every day life which can make it hard to eat well and often.  There are lots of ideas in the book for some tasty healthy snacks too.
It's not a book about the latest eating fad, or restricted diet.  All of the recipes are healthy, delicious and can be changed to get different results each time you cook your meals.  Also the shopping guide will help make things easier which is always a plus right?  I hope this post has given you some fun ideas for healthy salad recipes!  Create some of your own and let me know what you come up with.
You may also like :