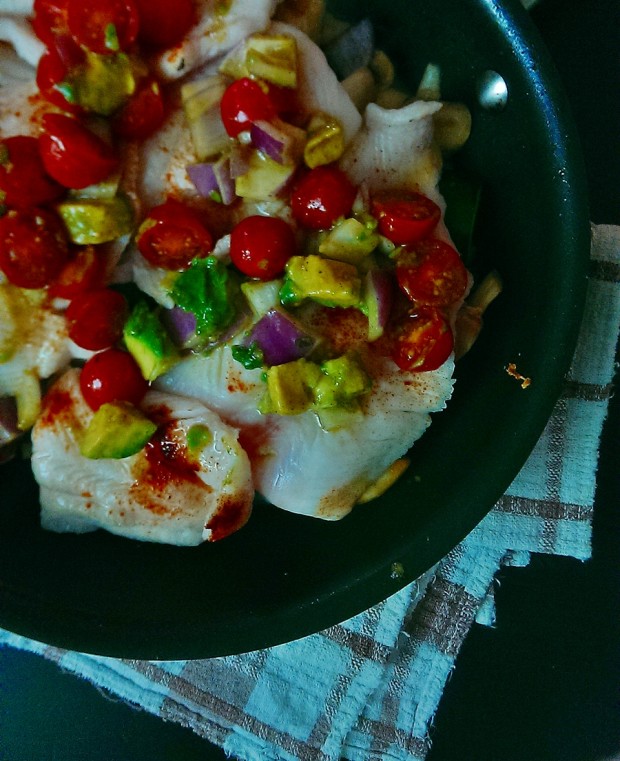 This recipe for a delicious broiled cod with avocado salsa doesn't really fit the festive season.  It's fresh, light, and you wouldn't think it would stick to your ribs.  Heather was craving something a little fresher than usual.  I have been playing around with the crock pot lately making hearty dishes to help get us through winter.  If you didn't check out my last post for Korean Braised Short Ribs, then you're missing out!
The problem is…It's been plus 10 for the last few days!  It's like summertime outside!  Well, I guess it's not really a problem, but I wanted to change up the usual hearty dishes for something a little simpler, but so delicious.
Heather was craving avocado, and the ones I grabbed from Superstore were perfectly ripe.  There's nothing worse than going to the grocery store to make your world famous guacamole, and have the avocados harder than a rock.
These guys were perfect.
I wanted to make a simple salsa to go on top of some simple cod, and roasted vegetables. Heather and I love zucchini and mushrooms.  All you need is a little garlic and butter and dinner is served.
This dish probably took no more than 15 minutes, and I had leftovers for lunch the next day.  Just remember folks, don't microwave fish!  It's awful!  Your microwave will smell like a warm fish hatchery for days.  Anyways….on to the recipe!

Broiled Cod with Avocado Salsa
Prep time:
Cook time:
Total time:
Ingredients
Avocado Salsa
1 avocado, ½" diced
1 cup of halved grape tomatoes
2 Tablespoons of ¼" dice red onion
1 teaspoon of chipotle pepper powder
½ teaspoon of ground cumin
The juice of one lime
2 Tablespoons of olive oil
Salt and Pepper to Taste
Cod and Roasted Vegetables
1 lb. of cod fillets
1 teaspoon of chili powder
1 teaspoon of ground cumin
2 zucchinis ½" dice
3 cups of brown mushrooms, ½" dice
¼ cup of red onion ¼" dice
2 cloves of sliced garlic
1 Tablespoon of butter
1 teaspoon of olive oil
Salt and Pepper to Taste
Instructions
Combine all of the salsa ingredients. Season well and set aside.
Heat up a large saute pan with the butter and olive oil and add in the mushrooms, zucchini, onions and garlic. Cook until the vegetables get a bit of color on them, and season well with salt and pepper.
Top the vegetables with the cod fillets and season with the chili powder, cumin, salt, and pepper.
Turn your oven to broil and brown the fish for a few minutes until cooked.
Take out of the oven and top with the avocado salsa. Squeeze extra lime juice in the pan. Enjoy!
So yeah, maybe it's not turkey and stuffing, or a hearty beef stew, but Heather and I loved this dish, and I always like to be different!  It's  a great way to celebrate how fantastic the weather has been the last few days.  At the rate we are going in Calgary it's going to be a brown Christmas!  Up next will be another rendition of soup Tuesday, as it is our turn to cook coming up!  I also plan on coming up with a few tasty morsels for throwing a healthy holiday party.  You won't want to miss it!
You may also like :