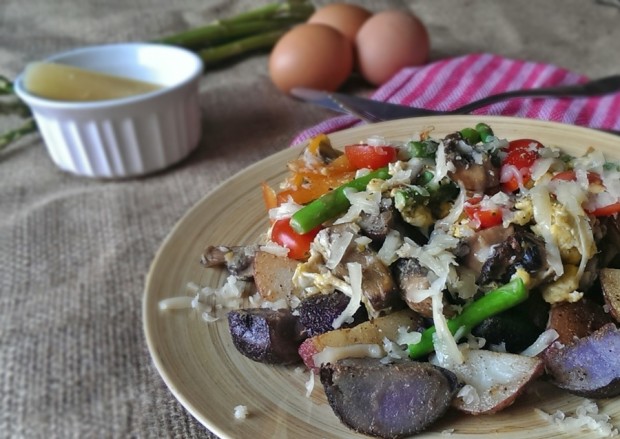 The breakfast scramble is one that can consist of hundreds of ingredients, and all you have to do is scramble them together and you have a quick, healthy breakfast, in probably much less than 10 minutes.  It's probably more like 4 or 5 minutes.  I do prefer having some kind of a starch such as sweet potatoes, baby potatoes, or quinoa.  I recommend steaming your potatoes, or cooking your quinoa ahead of time.  That way you can still truly be under the 10 minute mark for breakfast in the morning.
This breakfast scramble recipe is one I like to call "everything but the kitchen sink" breakfast scramble.  I will post some simpler scramble recipes below, but this one has everything you need in it.
Everything But The Kitchen Sink Breakfast Scramble
2 large eggs
1 cup of baby potatoes quartered and steamed
4 cremini mushrooms quartered
1 Tablespoon of red onion thinly sliced
1/4 cup of grape tomatoes halved
1/4 cup of chopped asparagus
1 teaspoon of canola oil
1 teaspoon of unsalted butter
1 Tablespoon of grated white cheddar
Salt and pepper to taste
Method
Heat up a non stick pan with the oil and the butter.  Add in all ingredients except for the tomatoes.  Cook the vegetables until they are soft and have a bit of color on them.  Scramble the eggs into the mixture and mix in the tomatoes.  Put on a plate and top with the cheddar cheese.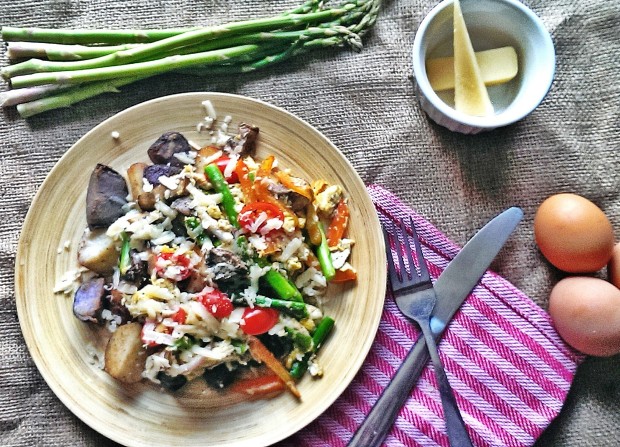 Mix some things up and try these different varieties too.
Sweet Potato Sausage Hash
1 cup of steamed diced sweet potato
1 Tablespoon of diced red onion
1/4 cup of ground Italian sausage
2 large eggs
1/2 cup arugula
1/2 teaspoon of chili powder
1/2 teaspoon of paprika
Quinoa, Mushroom, and Spinach Breakfast Scramble
2 large eggs
1/2 cup of quinoa
1/2 cup sliced cremini mushrooms
1/2 cup spinach
1 Tablespoon of diced red onion
1 Tablespoon of goat cheese
Spaghetti Squash, Roasted Tomato and Gouda Scramble
2 large eggs
1 cup of spaghetti squash
1/2 cup Swiss chard
1 Tablespoon of white onion
1/2 cup grape tomatoes, whole
1 Tablespoon of grated gouda cheese
You will need 1 teaspoon of butter and oil for each of these dishes.  don't forget the salt and pepper too!
All of these dishes, with a little bit of preplanning, can be made in under 10 minutes.  Start trying some of these recipes and let me know what you guys think.
You may also like :