Did you guys check out  my first post for Breakfast in 10 post?  Check it out here if you didn't.
I decided to eat an omelette for dinner tonight and it was fantastic.  I have probably made more omelettes in my life than I ever want to count, but tonight I want to share some of my knowledge of making this classic egg dish.  I figure with the amount of practise I have something to offer right?
The best part is, that a classic 3 egg omelette can be made in under 10 minutes, and there are hundreds of ingredients you can put in it.  This one that I made tonight was perfect with lots of wild mushrooms, soft and tart goat cheese, and some sautéed red onion.
The classic French way of making an omelette will include a little bit of heavy whipping cream, and making sure that you get absolutely no color on the egg.  I'm not going to show you that way.  I'm trying to promote a healthy recipe so 33% whipping cream probably isn't the best way to do it!
Alright I'm going to show you how I make this delicious omelette.  I will also give you some other tasty combinations that will work for anyone in your house.
Wild Mushroom and Goat Cheese Omlette
3 large eggs
1 cup of sliced cremini mushrooms, or any kind of mushrooms you wish
1 Tablespoon of sliced red onion
1 Tablespoon of goat cheese
1 Tablespoon of finely chopped chives
1 teaspoon of butter
1 teaspoon of canola oil
Salt and pepper to taste
Method
Put the butter, oil, mushrooms and onions in a small non stick pan, and turn on to a medium heat.  Season with salt and pepper and cook until the mushrooms are nice and soft.  Beat the eggs in a bowl and add to the pan.  Using a spatula, scrape the sides of the pan and tilt the pan back and forth to get all of the egg cooked.  If you are feeling brave enough, flip the omelette in the pan, or use the spatula to flip the omelette over.  Cook for another minute or two and top with the goat cheese and chive.
The process will be the same no matter what kind of omelette you choose to make.  Sauté your vegetables, make sure you whisk the eggs in a bowl before you put them in the pan, and use the tilt and spatula technique.  After that you can pretty much go to town with different ingredients.  Here are some of my favourites:
1. Italian
Sliced Roma tomatoes, red onion, basil, and buffalo mozzarella
2. Greek
Red peppers, green peppers, red onions, and feta cheese
3.  Tex-mex
Black Beans, corn, red peppers, topped with salsa and slices of avocado
4. Spanish
Chorizo sausage, peppers, red onions, and small dice potatoes
5. Vegetarian
Mushrooms, tomatoes, peppers, onions, aged white cheddar cheese
6. Meatatarian
Italian sausage, diced smoked turkey, diced red onion, gouda cheese
7.  Chef's Omelette
Diced smoked turkey, black forest ham, tomato, red onion, aged white cheddar,
You get the idea right?  Try out some omelette recipes you have and comment below on your favourites.  The best part is that all of these omelettes can be made in 10 minutes or less!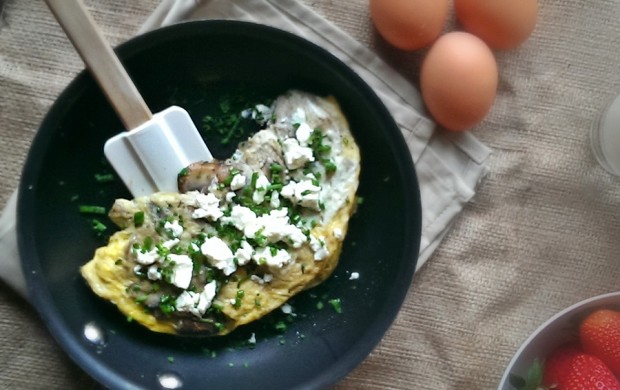 You may also like :