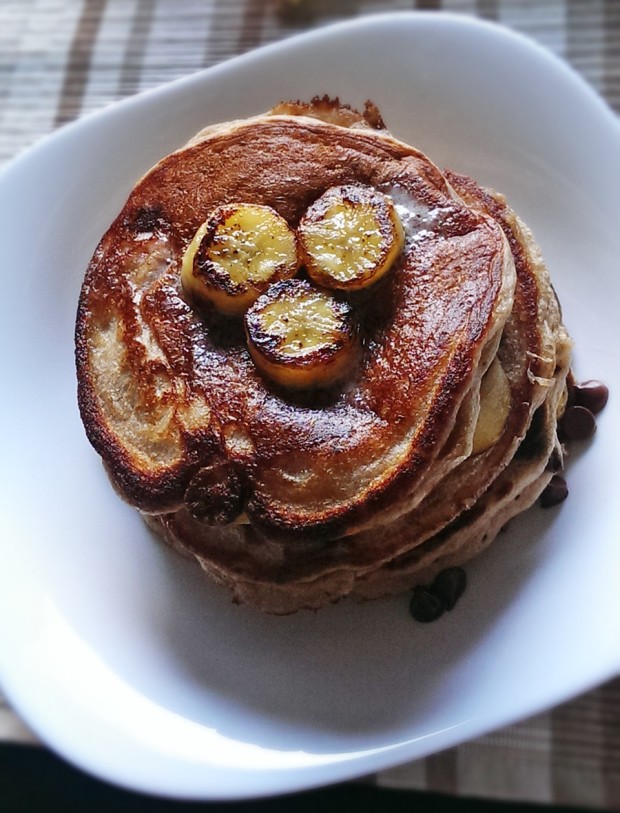 First off, I hope while reading this entire post, you are singing banana pancakes by Jack Johnson in your head.  Maybe you should just go to YouTube now and search for it.  It's okay….I'll wait.
Got it?  Good!  I was chatting with Heather today as I was making these pancakes, and banana pancakes are one of her favourites.  We don't really remember how it came to be, but I know I made them for her once and never looked back.
Are you pretending like it's the weekend now?  It's a line in the song.  It's stuck in my head right now!
Anyways, I wanted to make my own twist on a classic, and these guys measured up in every way.  I like some extra protein for breakfast and added some chocolate protein powder to some hearty Bob's Red Mill pancake mix.  the only other thing I needed was some bananas, and semi sweet chocolate chips.  These pancakes were just sweet enough.  I just melted a bit of butter on them and they were ready to eat.  As the title says, they are also ready to make in under 10 minutes.  Wouldn't you like to eat pancakes on a Wednesday morning, and still be able to get to work on time?  Now you can!

Chocolate Protein Banana Pancakes
Prep time:
Cook time:
Total time:
Ingredients
1 cup of Bob's Red Mill Pancake and Waffle Mix
1 banana sliced
2 Tablespoons of semi sweet organic chocolate chips
1 cup of 1 % milk (you may have to add a bit more to thin out the batter once mixed)
1 large egg
1 scoop of chocolate protein powder
2 Tablespoons of canola oil
Instructions
Whisk together the protein powder, pancake mix, egg, and 1 Tablespoon of canola oil until all lumps are removed.
Incorporate the bananas and chocolate chips into the batter.
Heat up a pan with the rest of the canola oil (you may need a bit more than 1 Tablespoon) and ladle in the batter in any size you like.
Cook until bubbles start to form on the top, and then flip the pancake over.
Cook for another minute or two, and then transfer to a plate.
Add on butter and all natural maple syrup as you wish.
These pancakes are perfect for any day of the week.  Just make sure not to eat too many of them!  Everything in moderation as I always say.  If you are looking for a quick breakfast in under 10 minutes, this is a great recipe to add to your list.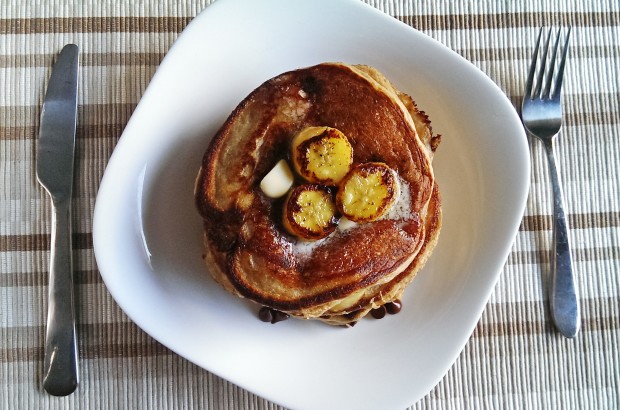 You may also like :