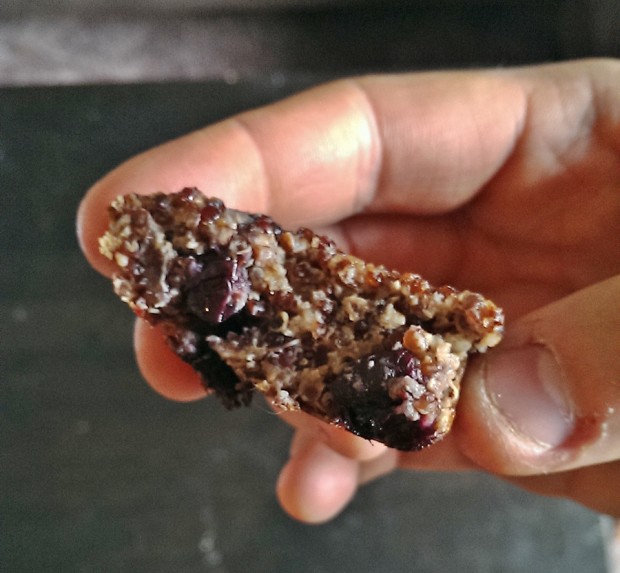 Okay, this chai blueberry bread pudding turned out pretty amazing, even for my lack of baking skills!  I made sure to give out lots of samples to my guests at Community Natural Foods, when I did my first speaking event on healthy eating for Thanksgiving.  They had good things to say which is always nice!
This quinoa bread pudding is actually gluten free too.  What helps to bind the mixture is the eggs.  I had made a couple test batches and once I added in one extra egg, everything held together really well.  I also used something I haven't ever used before, and that was quinoa flakes.  I was able to buy them in bulk from Community, and they added a lightness to the bread pudding.  They have a similar texture to oats, but lighter.  I mixed them with red quinoa for color, and organic frozen blueberries.  So good!
What's nice about these guys is you can bake them in muffin tins, and use them for snacks, or a healthy warm dessert served with some coconut milk ice cream (highly recommended!)
The other thing I tested out a bit was the chai spice blend.  If you Google it, you will get dozens of different recipes.  It's similar to a Garam Marsala in that each persons spice mix will be different.  You could add in dried ginger, cardamom, cinnamon, cloves, or star anise in any amount you want.  I did make sure not to add too much spice as it can be pretty overpowering.  All I needed was one teaspoon of the chai mix, and I was good to go for the whole batch!

Blueberry Chai Quinoa Bread Pudding
Prep time:
Cook time:
Total time:
Ingredients
Bread Pudding
2 cups of cooked quinoa (use whatever color you like)
1 cup of quinoa flakes
2 whole organic eggs
1 cup of organic vanilla almond milk (You could also use coconut milk too!)
1 vanilla bean
1 cup of frozen organic blueberries
coconut palm sugar to sweeten
Spice Blend
1 teaspoon of ground cardamom
1 teaspoon of ground cinnamon
½ teaspoon of ground ginger
1 teaspoon of ground clove
Instructions
Mix together the spice blend and add one teaspoon to a small pot with the almond milk. Scoop out the pods in the vanilla bean as well and heat to a simmer for a few minutes to infuse the almond milk.
Transfer to a bowl and mix in the other ingredients. Mix well and portion into a muffin tin of any sizes you want. Make sure the baking pan is sprayed well.
Bake in a 375 degree oven for 12-14 minutes, or until a small paring knife comes out clean from the center of the bread pudding. Serve hot right away, or cool down and portion for later.
These little guys freeze well too!  You could make a double batch of them, freeze them individually, and then pull one out whenever you are craving a healthy snack!
You may also like :