I've been playing with the crock pot lately.  We got hit with a cold snap this week and nothing is better than the smell of a hearty crock pot dish in your house.  I can remember when I was living at home, and my dad would make venison stew.  He would let it cook for 3-4 hours and it was so good!  Heather has also been out of commission again with a bad sinus cold, and I figured that this beef stew recipe would help to make her feel better.  It turned out she really liked it!  Let's just hope she gets better soon.
This stew is actually a gluten free recipe.  What makes it gluten free is that I actually used a roasted acorn squash to help thicken the broth as the stew cooks in the crock pot.  As always it is an easy recipe that tastes great, has all kinds of healthy vegetables, and high quality beef.  It does take a little bit longer to cook this dish.  It's definitely one that you can spend a cold Saturday morning preparing and let simmer all day.  This stew will fill your house with a delicious aroma.  Here's how to make it:
Beef Stew with Acorn Squash (makes 4-6 servings)
1 lb of outside round 1/2″ dice  (any tougher cut will work for this recipes)
2 cups of Brussels sprouts, quartered
1 cups of carrots, 1/2″ dice
1 cup white onions, 1/2″ dice
2 cups of turnips 1/2″ dice
2 cloves of garlic, pureed
1 teaspoon oregano, fresh chopped
1 teaspoon rosemary, fresh chopped
1 spaghetti squash
1 litre of beef stock
1 Tablespoon of olive oil
Salt and Pepper to taste
Method
Cut the squash in half and clean out all the seeds.  Bake in a 375 degree oven until super soft.  Take out and set aside.
Heat up the olive oil in a pan until nice and hot.  Brown the beef and then add the vegetables and garlic.  Cook for a few minutes and then transfer to a crock pot.  Add in the chopped herbs, and beef stock.  Scoop out the acorn squash into the crock pot and break up.  As the stew cooks stir it to break up the squash and thicken the stew.  Cook for 2 hours, or until the beef is nice and tender.
This stew is easy, gluten free, and healthy.  Try it out and let me know what you guys think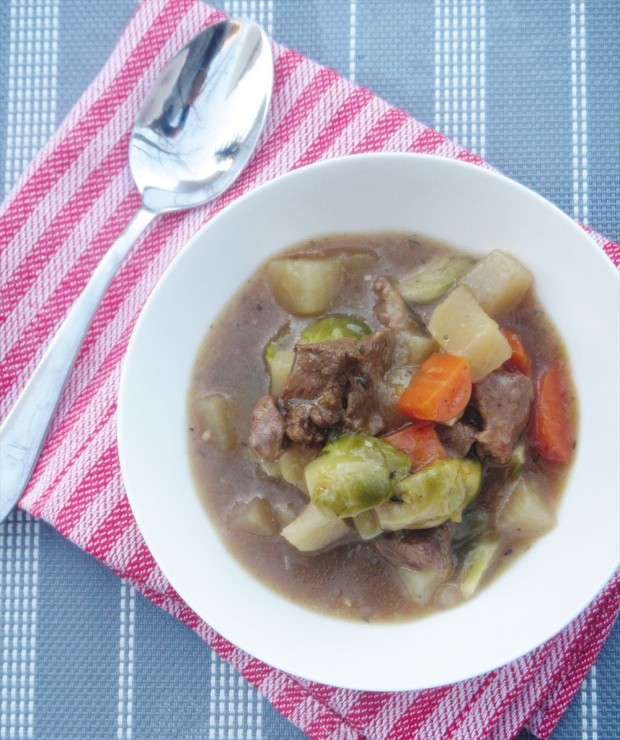 You may also like :