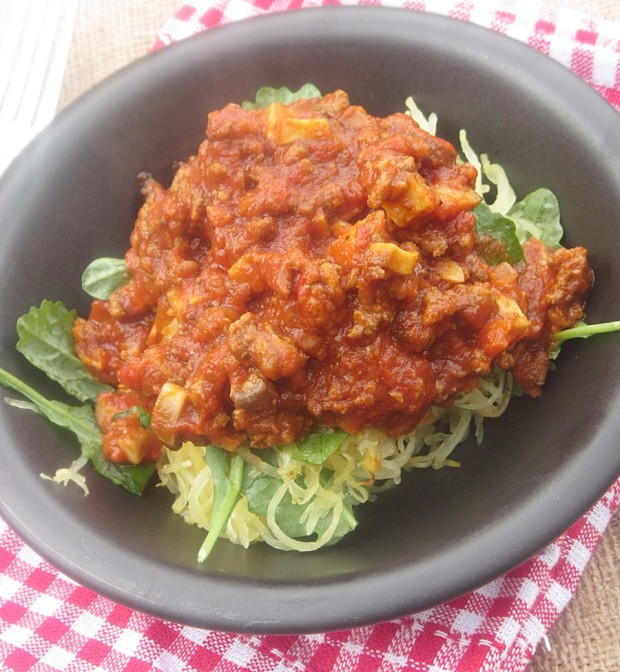 I really like spaghetti squash.  I have used it in many recipes before, and Heather and I can't get enough of the stuff.  I used it as a garnish in my parmesan crusted chicken recipe, but today I wanted to actually use it like its spaghetti.  What a concept right?
I also love making a good hearty Bolognese.  There's so many different ways you can make it.  I've used pork, beef, chicken, and turkey, and they all have different flavor profiles.  If you wanted to try a good vegetarian version, grind up some chick peas.  It will look a lot like ground meat, but will keep vegetarians and vegans happy!
This was a simple recipe that didn't take much longer than a half hour.  The spaghetti squash is what takes the longest as it has to roast in the oven.  I used some organic tomato sauce again, which makes making dinners so much easier than trying to make a sauce from scratch.  The jarred organic products have great ingredients and can be added to anything.  Try it, you'll like it!
Beef Mushroom Bolognese on Spaghetti Squash
Ingredients
Beef Mushroom Bolognese on Spaghetti Squash (makes 4-6 servings)
1 spaghetti squash, halved and cleaned
1¼ lb. of ground beef (1 15 oz can of chick peas blended up if you want a vegetarian option)
½ cup finely chopped white onion
2 cups of finely chopped cremini mushrooms
2 cloves of minced garlic
1 cup of baby kale
3 cups of organic tomato sauce (I used a spicy arrabiata, but feel free to use any kind you wish)
½ cup chiffonade basil
1 teaspoon of oregano, dry
1 Tablespoon of olive oil
salt and pepper to taste
Instructions
Season the spaghetti squash with salt and pepper and drizzle with olive oil. Roast in a 375 degree F oven for a half hour, or until the squash is soft. Use a fork to scrape out the meat of the squash into a bowl. Set aside.
Heat up a pot with olive oil and brown the ground beef. Strain the beef and then add back into the pot with the onions, garlic, and mushrooms. Cook the vegetables until they are soft and the garlic is aromatic. Add in the tomato sauce and herbs and simmer for 15 minutes. You may want to add a half cup of water to the pot as the tomato sauce will get thick and bubble all over your stove. Season with salt and pepper. Ladle the bolognese on top of the hot squash with baby kale mixed in
I usually write 4-6 servings on my recipes.  That's  mainly because  Heather and I eat two substantially different volumes of food.  What may end up happening is this dish will decrease your personal serving size.  It will end up being consumed much faster and in larger amounts.  That's okay, just make more!  It's healthy remember?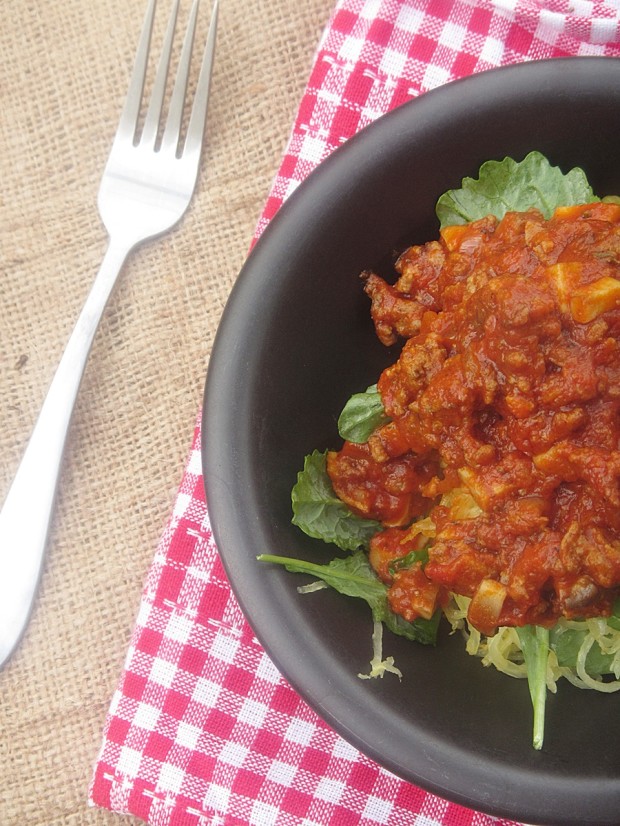 You may also like :