Heather and I have been really into brussel sprouts these days.  She started craving them back during Thanksgiving.  I created a delicious fall roasted vegetable mix with these guys that you can check out here.
I think that brussel sprouts should be consumed much more often than just the holidays.  Heather and I have been eating them once a week since Thanksgiving and haven't really stopped.  Cruciferous vegetables are super healthy, and are loaded with anti-cancer properties.  This is definitely a no brainer.  Eat more of them now!
There are so many different ways to enjoy these guys.  Sadly when I would go over to other family member's houses for thanksgiving they would always be boiled just enough to get rid of any nutritional value.  Most of the taste went with it too sadly.
This recipe I came up with is so simple, and a great way to enjoy brussel sprouts a less traditional way.  The ginger and sesame oil really change the taste in this beefy brussel sprout stir-fry.   These little cabbages take the place of a more traditional bok-choy, or Chinese cabbage.
Beefy Brussel Sprout Stirfry
3/4 pounds of sirloin beef, thinly sliced
3 cups of brussel sprouts, quartered and rinsed
2 cups of red peppers, sliced
1/2 cup red onions, sliced
1 Tablespoon of sesame seeds
2 cloves of pureed garlic
1 teaspoon of grated ginger
Salt and Pepper to taste
Sauce
1 teaspoon of honey
1 teaspoon of sesame oil
1 Tablespoon of gluten free soy sauce
Method
Heat up your oven on the broil setting.  Toss the peppers onions, peppers, and brussel sprouts with the sirloin steak, salt and pepper.  Put into a pan and broil in the oven for 5 minutes.  Add in the garlic, ginger, and sauce and finish cooking.  The beef should be cooked well and the vegetables soft with some color.  This should take another 5 minutes or so.  Top with sesame seeds and serve.
The broiling adds a great color to the vegetables, and there isn't a need for oil to sauté the dish either.  This dish is very healthy, loaded with flavour, and can help you appreciate a different way to use brussel sprouts.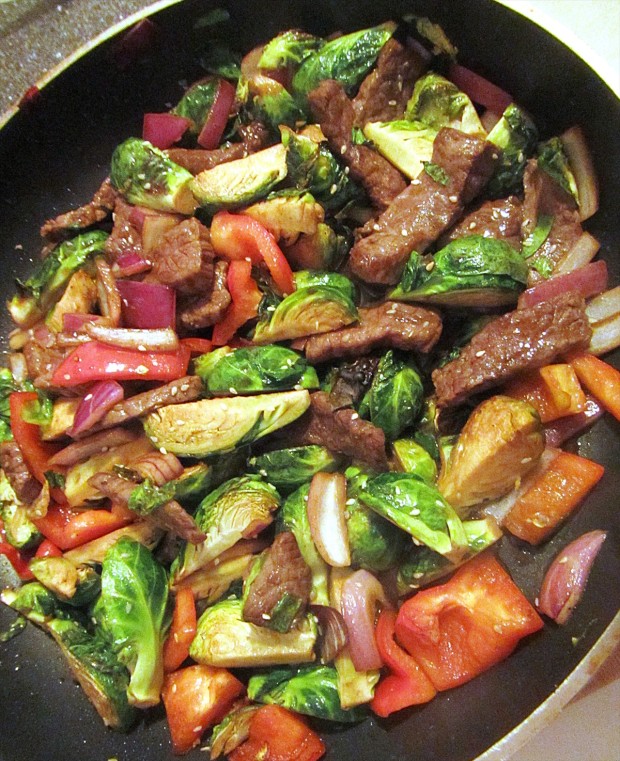 You may also like :