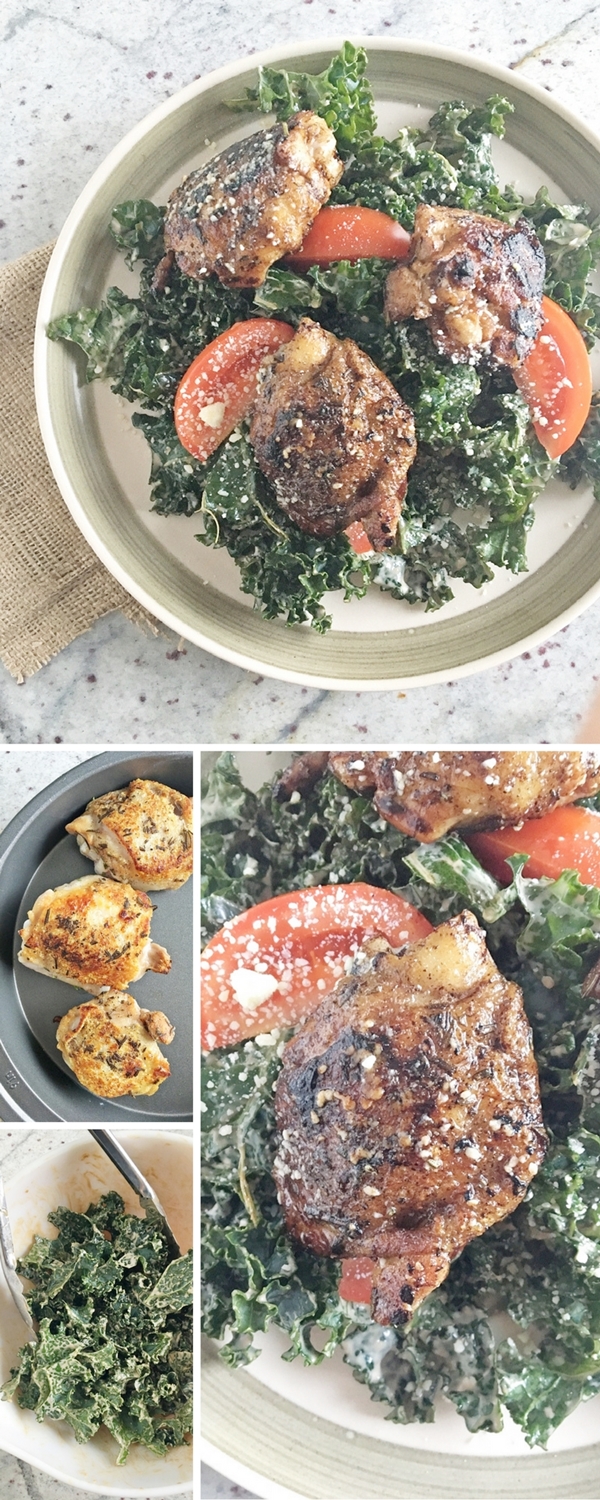 This delicious recipe is meant to show my lovely readers (that's you!) how easy it can be to make dishes that appear to be fancy but are inexpensive and full of flavor.  Balsamic vinegar and freshly chopped rosemary give the roasted chicken thighs in this dish a punch of deliciousness and the homemade kale Caesar salad is healthy, crunchy and tart.  I'm working out a couple of my culinary muscles with this dish and I was really excited to share this salad recipe with you.  I'll show you how to perfectly brown a chicken thigh and how to coat it with a delicious balsamic vinegar and butter reduction.  The kale Caesar salad is sans anchovies so is perfectly vegetarian, and has the perfect amount of acid, roasted garlic, and grainy Dijon mustard.  The kale is also macerated with the Caesar dressing.  I know….fancy word right?  Don't worry, I will explain it later in the blog post, I promise!
Let's start with the delicious roasted chicken thighs shall we?  I decided on using this cheaper cut of poultry because my goal is to share with you how less expensive cuts can still taste really great and be super healthy!  It's the time of year where some of us are trying to pay off credit cards from the holidays, or are trying to save money or eat healthy, and these chicken thighs do just that!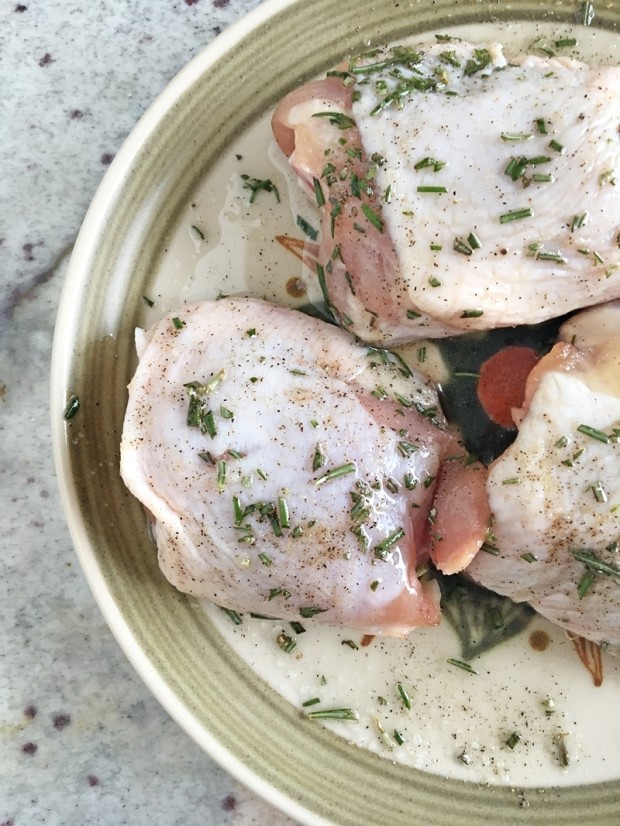 I just used salt, pepper, garlic powder, and freshly chopped rosemary.  After adding in some good quality olive oil I mix together the chicken well, and get my pan nice and hot.  I add in another tablespoon of olive oil into the pan  and add in the chicken thighs skin side down.  Be careful not to burn yourself!
Make sure to leave the chicken to sear in the pan at least for a minute on high heat.  I know you want to touch it, but don't!  I remember chef's yelling at me throughout my culinary career making sure that when meat is searing, that you leave it to sear.  I won't yell at you, but I promise the flavor will be worth it.  The meat needs as much high heat as possible to brown it and form a nice crust on the skin.  Once the meat has a nice brown color on it, I finish it in the oven and then prepare for the final step, glazing it!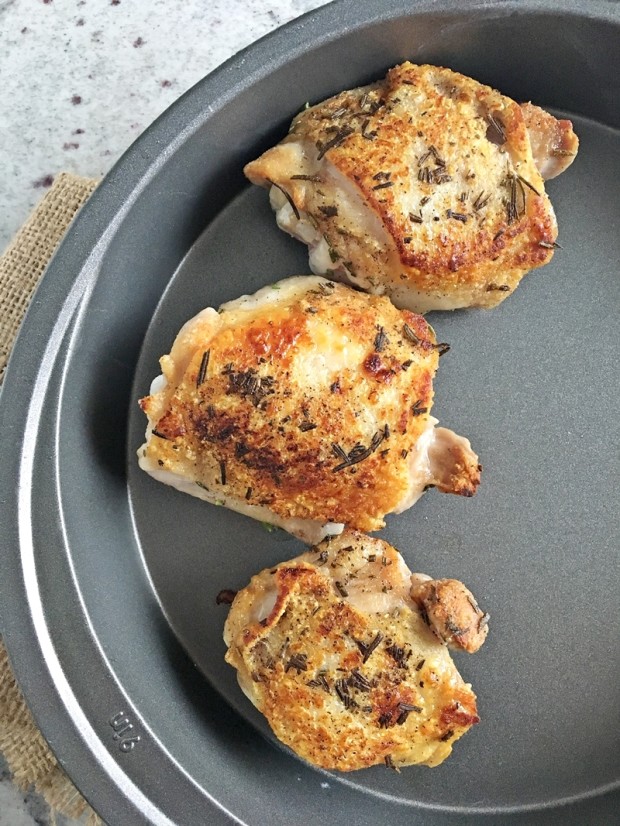 Once the chicken is ready to go, I heat the pan back up that I originally seared it in.  I get the pan nice and hot again and then add in the chicken skin side up.  A spoonful of butter and a swirl of balsamic vinegar make it into the pan after and then I baste the chicken skin with this delicious concoction.  Make sure you have some veintilation on and for crying out loud don't breathe in near the pan!  The vinegar almost took out my nostril hairs.  It hurt!  It was all so that I could take an action picture of the vinegar reducing, so I am sure you don't be as ridiculous as me.  Really though it hurts!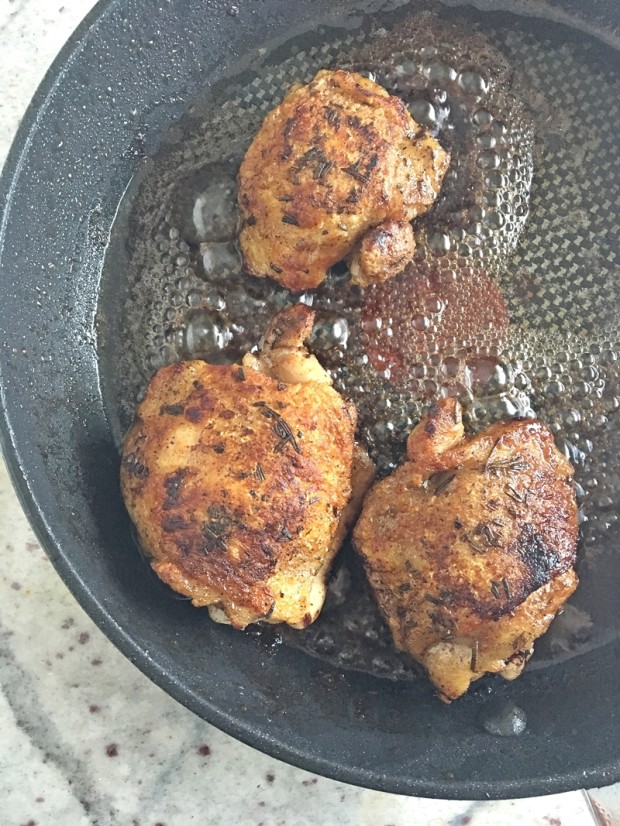 Just look at that lovely glazed chicken!  Is your mouth watering yet?  We haven't even gotten to the kale Caesar salad!
This salad has become one of Heather's addictions.  it's so simple to make and all you have to do is let it sit for a while and macerate.  What does that mean you ask?  The official definition for macerated is "to soften or become softened by soaking in a liquid."  Basically the kale marinades in the Caesar salad dressing and breaks down just enough as if the Kale was wilted.  Call it a cold wilt.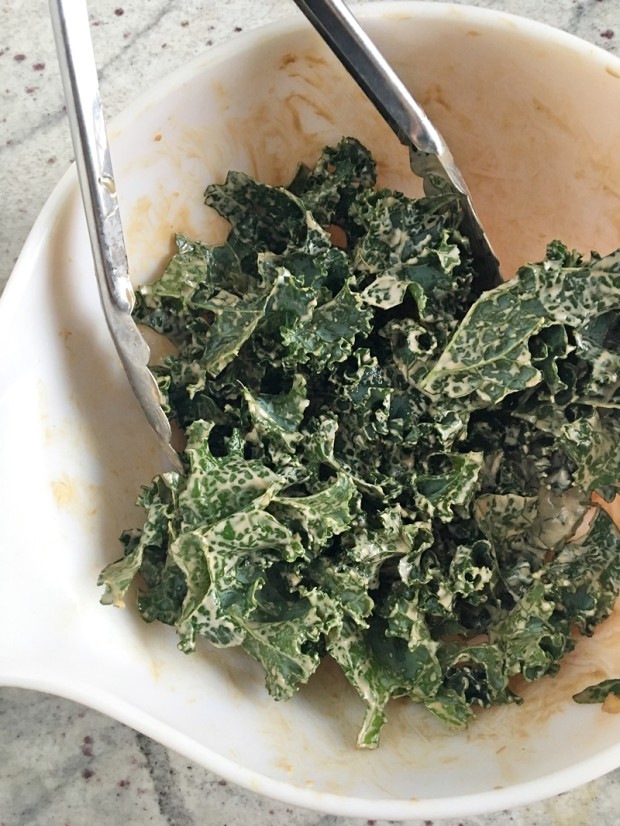 To make the delicious dressing you simply just have to whisk some ingredients together and go.  The only thing that requires a bit of effort is the roasted garlic.  You can either make it yourself or easily buy some from the grocery store.  I do love the smell of roasted garlic in the kitchen and would highly recommend you give it a go.  The recipe will be below for it.  Try it and let me know what you think!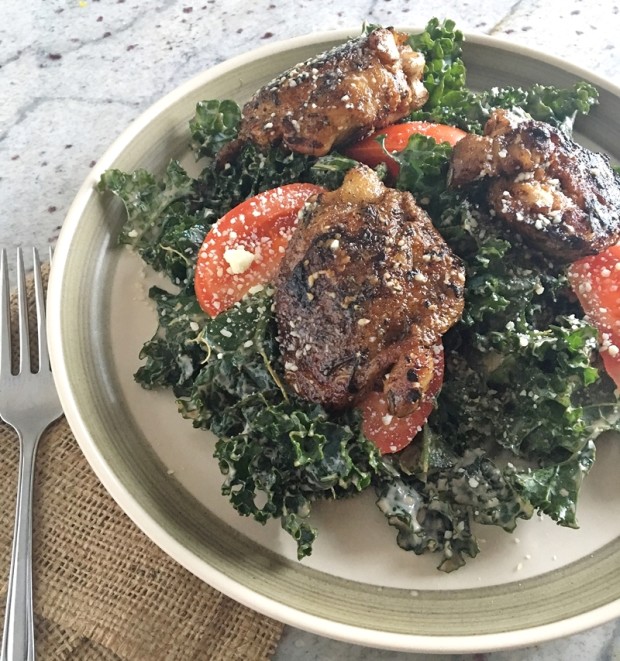 Balsamic Rosemary Chicken Thighs with Kale Caesar Salad
Prep time:
Cook time:
Total time:
Ingredients
Chicken
1.5 pounds of bone in chicken thighs, skin on
1 tablespoon of freshly chopped rosemary
salt, pepper, and garlic powder to taste
4 tablespoons of olive oil, more for searing
2 tablespoons of balsamic vinegar
2 tablespoons of butter
Caesar Salad
1.5 head of kale, torn with stems removed
½ cup of mayonnaise
¼ cup of balsamic vinegar
¼ cup of roasted garlic oil
1 teaspoon of Dijon mustard
1 Tablespoon of finely chopped roasted garlic
the juice and zest of half a lemon
Homemade Roasted Garlic
1 cup of olive oil
15 cloves of peeled garlic
Instructions
Chicken
Mix together the chicken thighs with the 4 tablespoons of olive oil salt, pepper, garlic powder and rosemary.
Heat up a large pan with 2 more tablespoons of olive oil. Let come to a smoking point.
Add in the thighs skin side down and let sit for about a minute until the skin gets nice and brown. flip over and brown the other side. Transfer to a pan.
Put the pan in a 380 degree F and cook the chicken until the internal temperature reads 165 degrees F.
Using the original pan add in the 2 tablespoons of butter and balsamic vinegar and add in the chicken skin side up. As the butter and vinegar start to bubble and reduce, use a spoon to baste the mixture over the chicken.
Caesar Salad
Whisk together all of the dressing ingredients in a large bowl and tear the kale into strips and add to the bowl as well. Mix together the kale well and let sit for at least a half hour to an hour in the refrigerator. Serve with the chicken thighs.
Homemade Roasted Garlic
Add the oil and garlic into a small pot and bring to a light simmer, stirring occasionally. Check the temperature every so often.
The garlic should be nice and soft and not too crispy. The garlic will have a much sweeter taste this way. The garlic can be kept for at least a week in the refrigerator.
I want this dish to show how easy and simple it is to prepare meals that don't take a lot of time to prepare, use basic ingredients and still taste great.  There definitely is a bit of a process preparing the roasted garlic, but overall this dish doesn't take that long to cook.  The other great thing is that these items are really inexpensive.  For this dish I didn't spend more than $15 on the ingredients and had made 4 meals for Heather and I.  That works out to less than $4 per dish.  Not a bad way to eat healthy am I right?  I hope you enjoyed this recipe!  Let me know your thoughts in the comments below!
You may also like :