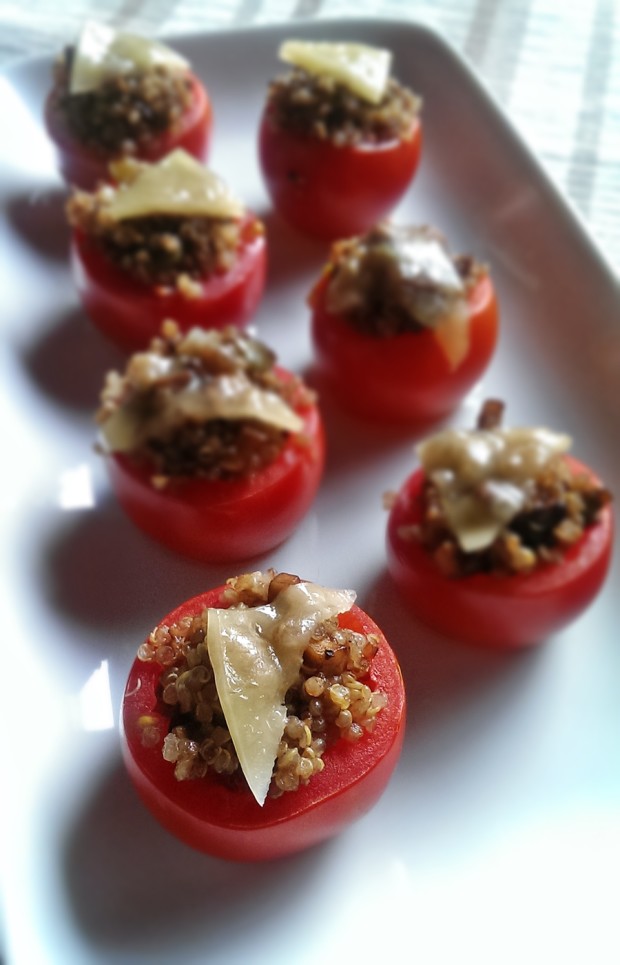 I bought some really deliciously ripe tomatoes today.  The first thing I thought to myself is that I have to stuff them with quinoa.  Some sautéed mushrooms with garlic, white wine and balsamic vinegar was the perfect addition to the stuffing.  Melted aged white cheddar on top?  Okay!
These little beauties go perfect with my turkey parmesan recipe, I suggest you make both of them right away.  These guys make great appetizers, and of course they are gluten free.
Balsamic Mushroom Quinoa Stuffed Tomatoes
Prep time:
Cook time:
Total time:
Ingredients
12 vine ripened tomatoes, with the tops cut off and seeds removed
2 cups of cooked quinoa
3 brown mushrooms, finely chopped
½ green pepper, finely chopped
2 cloves of garlic, finely chopped
1 Tablespoon of balsamic vinegar
1 Tablespoon of white cooking wine
1 Tablespoon of olive oil
Salt and pepper to taste
60 grams of aged white cheddar, sliced into thin triangles
Instructions
Heat up a pan with the olive oil and sauté the mushrooms, peppers, and garlic until nice and soft. Season with salt and pepper. Deglaze with the balsamic vinegar and white wine. Once most of the liquid has evaporated toss in the quinoa and mix well. Stuff into the tomatoes and top with the cheese. Put in a 300 degree oven and lightly melt the cheese. Serve.
Okay, now you can go and make these guys and some turkey parmesan.  Trust me.  It's good.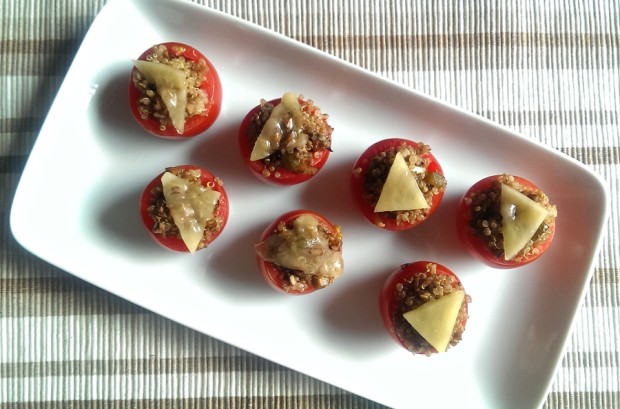 You may also like :