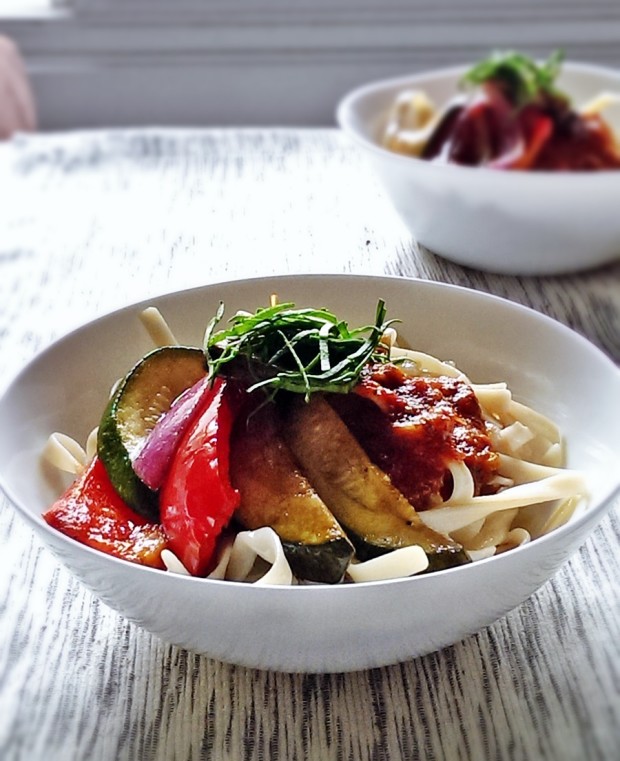 So as a chef one of my favorite things is to cook with alcohol.  I remember one of my first times in a commercial kitchen getting to flambé some brandy and add cream to a rich peppercorn sauce.  I've made barbeque sauce with Jack Daniels, rum, Jamaican rum, and vodka.  I've added beer to a chili, and a beef stew.  So let's just say I have had some great experience with different kinds of booze.
My friend Curtis got me into Amaretto a while ago.  One of my guilty pleasures is to indulge in an Amaretto and coke every once in a while. It's got this really nice mellow sweetness to it.  Sadly it's so sweet you won't even know when you've had too much!
It does make a really good tomato sauce though.  It needs a bit of balsamic vinegar added to it to balance out the sweetness.  The smell that came from the pot when I added in the Amaretto was too good,  just like this dish.  I just purchased some basic organic tomato sauce and jazzed it up with some garlic, herbs, chili flakes, and of course, alcohol!
Amaretto Arrabiata Pasta
Prep time:
Cook time:
Total time:
Ingredients
4 cups cooked gluten free pasta
2 cloves of garlic, thinly sliced
1 teaspoon of chili flakes
1 teaspoon of dry oregano
1 teaspoon of dry basil
2 Tablespoons of olive oil
2 cups or organic tomato sauce
2 fluid ounces of Amaretto (I used Disaronno)
1 red pepper, sliced
1 zucchini, sliced
½ red onion, sliced
1½ cups of sliced mushrooms
2 Tablespoon2 of balsamic vinegar
Salt and pepper to taste
Instructions
Heat up a pot with 1 Tablespoon of olive oil, and lightly brown the garlic and the chili flakes.
Deglaze the pan with the Disaronno and add in the tomato sauce, dried herbs, salt and pepper.
Let come to a light simmer for 10 minutes, and keep warm.
Toss the vegetables with the other Tablespoon of olive oil, and the balsamic vinegar.
Season well with salt and pepper, and broil in the oven.
The vinegar will start to reduce a bit.
Stir the vegetables often to prevent burning and take out of the oven when the vegetables are well caramelized.
Toss the gluten free noodles in the hot tomato sauce and plate.
Top with the roasted vegetables and a little bit of the balsamic vinegar to cut the sweetness of the Disaronno. Enjoy!
I hope Curtis can accept this use of his favorite alcoholic beverage.  I'll cook this for him and his wife one night and I am sure he will be quick to forgive me!  Just as long as I have enough for a few drinks afterwards.
You may also like :