This post will offer you some great ideas for leftover turkey recipes.  You won't have to worry about having to clean out your freezer with old, freezer burnt turkey ever again!

Happy New Year everyone!  I hope everyone had a great holiday season and have many great things to look forward to in 2017.  I thought I would start the new year with one of our favorite holiday staples.  Roasted turkey isn't just meant to be covered with gravy and served with mashed potatoes and cranberry sauce.  Leftover Turkey has so many possibilities!  If you were as fortunate as I was, you cooked a turkey that was way too big for everyone and now have two or three bags of leftover turkey that need a home.  On top of the delicious turkey you now need to find a use for all of those delicious bones.  This post is going to give you so many awesome leftover turkey recipes that are simple, inexpensive and delicious.
Before we get to all these delicious leftover turkey recipes, I wanted to say a quick thank you to everyone that is reading this post, or any of my other posts on the blog.  I truly appreciate everyone that takes the time to read these tasty recipes and stories.  The last half of 2016 has seen a lot of ups and downs for Heather and I, and so I haven't been able to blog nearly as much as I owe you all.  My dad had suffered a major heart attack back in July (He's doing much better though now!) We had to deal with the fun event of one of our three cats needing major surgery to remove a small piece of rubber from inside of her (long story short, don't get a cat! Ha!)   We were very fortunate to be able to travel to Lisbon and Paris back in October.  I highly recommend Lisbon especially if you want an inexpensive place to eat a lot of freshly grilled seafood and two Euro bottles of wine!  Heather and I also decided to move into a larger place in Airdrie which is a smaller city just north of Calgary (for those reading who don't know Alberta that well!)
I am grateful for the opportunity to blog for the world wide web and will work hard to add more value wherever I can!  On to the delicious recipes!
The first leftover turkey recipe is the feature picture.  It's just a simple shredded turkey stir-fry with frozen vegetables and a simple homemade sauce that is healthy, and full flavored.  I know there is nothing really fancy about this dish.  The goal for most of these simple leftover turkey recipes is to be full flavored and inexpensive.  The holidays tend to be a more expensive time of year, so trying to eat well on a budget is the goal here.  Leftover turkey recipes to the rescue!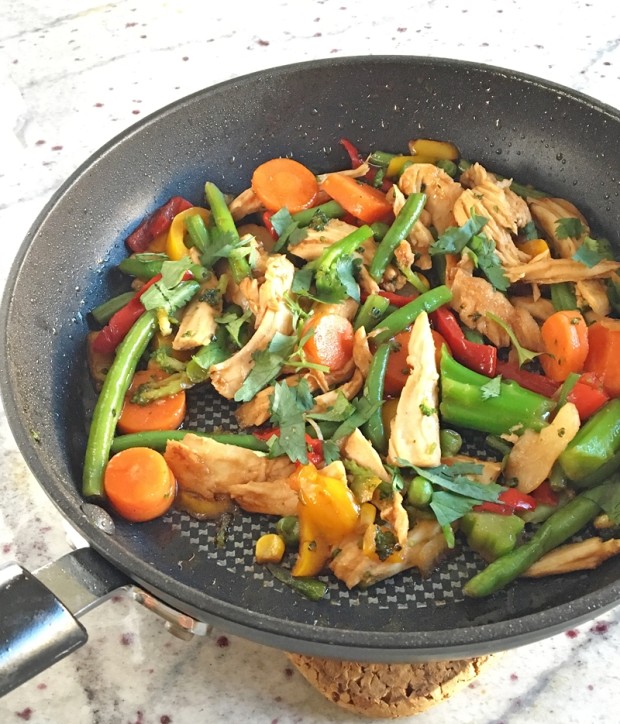 What makes this stir-fry so special is all of the deliciousness that is in the sauce.  The simple and salty taste of the soy sauce goes perfectly well with sweet, all Canadian maple syrup, freshly grated ginger, hot sauce and garlic.  Its a simple sauce that will last a while in your refrigerator and can be used as a delicious meat marinade as well.  Frozen vegetables also work well for this dish, and they are in expensive and still full of nutrients.
Leftover Turkey Recipes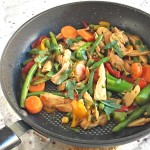 Simple Leftover Turkey Stirfry
A simple, delicious turkey stir-fry with a full flavored home made sauce and prefectly cooked vegetables.
Ingredients
1

pound

of shredded leftover turkey

4

cups

of frozen vegetables - any variety will do!

2

Tablespoons

of vegetable oil

Fresh chopped cilantro for garnish
Sauce
1/2

cup

of soy sauce

gluten free works as well

1/2

cup

of real maple syrup

1/2

cup

of chicken stock

1

Tablespoon

of freshly grated ginger

1

Tablespoon

of finely chopped garlic

1

Tablespoon

of your favorite hot sauce

or 1 tsp of chili flakes

1

pinch

of ground black pepper
Instructions
Whisk together all of the sauce ingredients and set aside.

Heat up the vegetable oil in a large pan or wok and cook the shredded turkey and the frozen vegetables for 3-5 minutes until everything is nice and hot. Add in 2 Tablespoons of sauce per person in a pan and heat through. Don't over reduce the sauce as it may become too salty. Serve over rice, vermicelli, or your favorite spiralized vegetable.
The next healthy turkey recipe is a simple method for creating healthy and tasty turkey stock.  All of the rest of these awesome recipes are meant to serve 3-4 people, so adjust accordingly!
2. Turkey Stock
Ingredients
1 turkey carcass, chopped into two to three inch chunks
2 carrots peeled, rough chopped with the ends removed
2 celery stocks, ends removed and rough chopped
1/2 onion, peeled and rough chopped
2 bay leaves
2 sprigs of fresh thyme
Method
Mix together the vegetables and turkeybones well and roast in a 400 degree oven until the vegetables are well caramelized.  Once they are done roasting, transfer into a large pot enough pot to hold everything.  Just cover everything with cold water and add in the bay leaves and thyme sprigs.  Simmer for 1-2 hours.  Strain the stock well and seperate into 3-4 containers without lids on them.  The stock needs to breather or it can go sour pretty quick.  Freeze or use right away.
3. Leftover Turkey Burrito Mix
Ingredients
1 pound of shredded turkey
2 red peppers, sliced
1 yellow pepper, sliced
1/2 red onion sliced
1 cup of canned black beans, rinsed
1 cup of canned garbanzo beans, rinsed
1/2 cup of frozen corn niblets, thawed
3 cloves of chopped garlic
1 teaspoon of ground cumin
1 teaspoon of ground chili powder
1 teaspoon of ground chipotle powder
3 Tablespoons of olive oil
salt and pepper to taste
Method
mix together the vegetables, shredded turkey, garlic, spices and olive oil in a large bowl. Season with salt and pepper.   Lay the mixture out on a large baking tray and bake in a 400 degree F oven until the vegetables are nice and golden brown.  Take out of the oven and mix together with the beans.  Serve on top of rice, or in a tortilla.
How are you guys doing so far?  We have a ways to go!  I am hoping you are already getting some awesome ideas for leftover turkey recipes!
4. Leftover Turkey Breakfast Hash
Ingredients
1 pound of shredded turkey
3 cups of diced and steamed yams
1 cup of diced red peppers
1/2 cup of diced red onions
2 cups of chopped kale, with stems removed
8 eggs, cracked and mixed in a bowl
2 teaspoons of chili powder
chopped fresh dill for garnish
Salt and Pepper to taste
2 Tablespoons of olive oil
Method
Using a large skillet or pan, heat up the olive oil and add in the turkey, vegetables, chili powder, salt and pepper.  Saute until the vegetable are well caramelized.  They should have a fair amount of color, but not be burnt.  Add in the eggs and scramble until all of the liquid has disappeared and the eggs are light and fluffy.  Serve with freshly chopped dill on top.
Leftover turkey would also be great with my Ultimate Breakfast Scramble Recipe too!
5.  Guacamole Turkey Salad
Ingredients
1 pound of shredded turkey
2 ripe avocados
2 cloves of garlic finely chopped
1/4 cup of 1/4″ diced red onion
1/4 cup of 1/4″ diced cucumbers
1/4 cup of 1/4″ diced red peppers
the juice of one lime
2 Tablespoons of olive oil
hot sauce, and salt and pepper to taste
Method
Mash the avocados with the vegetables, oil, lime juice, garlic and season well with salt and pepper and add as much hot sauce as you like.  This is your guacamole base.  mix in the shredded turkey well and serve.  This mixture can be put on a sandwich, served on top of tortillas chips as healthy nachos, or even served with poached eggs for a tasty breakfast!
6.  Healthy Turkey Vegetable Lasagna
Ingredients
1.5 pound of shredded turkey
1.5 cups of good quality jarred tomato sauce
1 zucchini, thinly sliced lengthwise
1 eggplant, roughly peeled, and sliced thinly lengthwise
2 red peppers, quartered
3 cups of shredded mozzarella
3 Tablespoons of olive oil
salt and pepper to taste
Method
Mix together the vegetables with the olive oil.  Season well with salt and pepper and roast them in a 350 degree F oven for 15-20 minutes until they get some good color on them.  Precooking the vegetables ensures that the lasagna won't be too watery.  Use a 10″ x 10″ Pyrex casserole dish for the lasagna.  Mix together one cup of tomato sauce with the shredded turkey.  Start with one layer of vegetables and then alternate between meat and vegetables adding a layer of grated cheese after each one.  For the top layer of the lasanga spread the other cup of tomato sauce evenly and finish with a top layer of grated cheese.  Broil the lasagna in the oven for 3-5 minutes or until the cheese is golden brown.  Let cool for 5 minutes and then serve.
7. 1 Pot Turkey Tomato Vegetable Soup
Ingredients
1 pound of shredded turkey
2 cups of high quality jarred tomato sauce
1 liter of chicken stock
2 cups of frozen vegetables.  You can use whatever blend you like.
1 Tablespoon of dried parsley
1 Tablespoon of dried basil
1 Tablespoon of dried oregano
1 teaspoon of garlic powder
salt and pepper to taste
Method
This soup is really easy to make.  Just add the tomato sauce, stock, shredded turkey, herbs and garlic powder into a large pot.  Bring to a simmer and cook for 15-20 minutes.  Add in the frozen vegetables and cook until they are just warmed through.  Check the seasoning prior to serving.  How easy was that?
Well hopefully these leftover turkey recipes give you some great ideas the next time you have some leftover turkey and need some help!  I do love eating a turkey dinner the next day, with all the mashed potatoes, gravy and of course cranberry sauce!  These are just some simple ideas to help you get your new year off to the right start.  Keep it fresh!
You may also like :